The Classic Car Auction 2012-2013 Yearbook
5 November 2013
Providing unparalleled reporting and analysis on the most successful collector car auction season in history to date
More than 50 market insiders attended the private presentation and discussion in Padua, hosted by Adolfo Orsi and Raffaele Gazzi
For the fifth consecutive year, Credit Suisse returns as the sponsor of the publication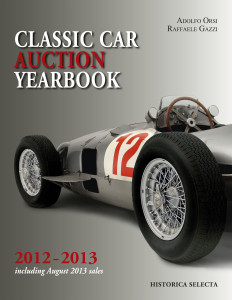 MODENA, Italy (5 November 2013) – Historica Selecta's Classic Car Auction Yearbook, the leading and only combined source of international collector car market sales, launched its 18th edition on Thursday, 24 October nearby the annual Auto e Moto d'Epoca Fiera di Padua. Overlooking the historic, sunset skyline of the Veneto region during one of the most important market weeks in Europe for the classic car world, more than 50 international automotive industry principals, auction executives and collectors attended the 90-minute reception and presentation. The overwhelming attendance and feedback following the evening marks this launch as the most successful in the history of the yearbook, during a significant time in the market when results are at record highs and sales analysis is crucial.
"The market has never been as strong as it has been today with last year's auctions producing nearly a billion dollars in overall sales and 136 cars sold above $1 million," says Adolfo Orsi, historian, specialist and president of Historica Selecta based in Modena, Italy. "Therefore, it is an important time for everyone to pay attention to the details and look at the big changes in the market in comparison to previous statistics… With 20-years of data recorded across top categories, the Classic Car Auction Yearbook is an excellent tool for research and data analysis of the international collector car market."
Historica Selecta's Classic Car Auction Yearbook authors and founders Adolfo Orsi and Raffaele Gazzi hosted the insider event, inviting special guests and leading auction executives Philip Kantor of Bonhams, Augustin Sabatié-Garat of RM Auctions and Matthieu Lamoure of Artcurial Motorcars to provide commentary and analysis on the season's events, values and growth forecasts.
This 2012-2013 edition of the yearbook is unique because it offers 13 months of data with the inclusion of the most recent August auctions from the Monterey Peninsula in California. This change will affect all future yearbooks, which will now be published immediately following peak sales in August in order to offer a timely report of the previous year before the start of a new season.
The Classic Car Auction Yearbook is the only historical reference book in the collector car world that provides an in-depth analysis of top international auction sales with data going back 20 years to follow how important marques and models have performed. It also tracks specific chassis that are sold at auction more than once throughout the years and reports on how those values have evolved. Chapters in this edition include the authors' Introduction, Market Analysis with comments from principals of auction houses, Top 150 cars sold of the season, "Top Ten", Season Case Study, and overall Auction Season Results with an extensive list of every car sold sorted by value, make, model, year, auction date and auction house. Extensive reporting on top cars, graphs and visuals are provided as valuable tools for analysis.
Following the success of this year's event and the growing demand for unbiased market analysis in a timely report in between seasons, Historica Selecta announces that it plans to return to Padua at this time next year.
About the Classic Car Auction Yearbook
Launched in 1993, Historica Selecta's Classic Car Auction Yearbook is authored and edited by company founders and historians Adolfo Orsi and Raffaele Gazzi. For the fifth consecutive year, Credit Suisse returns as the sponsor of the book's publication. The 2012-2013 Classic Car Yearbook is available for €52 and distributed through a network of specialized booksellers. For more information please contact Historica Selecta via email info@historicaselecta.it.
About Historica Selecta
Historica Selecta was founded in Modena, Italy in 1990 by Adolfo Orsi and was soon joined by partner Raffaele Gazzi in 1991. As leading specialists in the international collector car market and champions for historical preservation, Historica Selecta often advises many of the world's most prestigious museums, companies, private events, concours d'elegance and collectors.
# # #