The new Classic Car Auction Yearbook launches from the Auto e Moto d'Epoca Fiera in Bologna reporting on the 2022-2023 season surpassing two billion dollars in turnover 
26 October 2023
UBS is the new sponsor of the Classic Car Auction Yearbook
As confirmed on the cover of the new 28th edition, the Yearbook's Top Sale Award of the season goes to Bonhams for hammering the 1967 Ferrari 412 P at its Carmel, California Auction that sold for US $30,255,000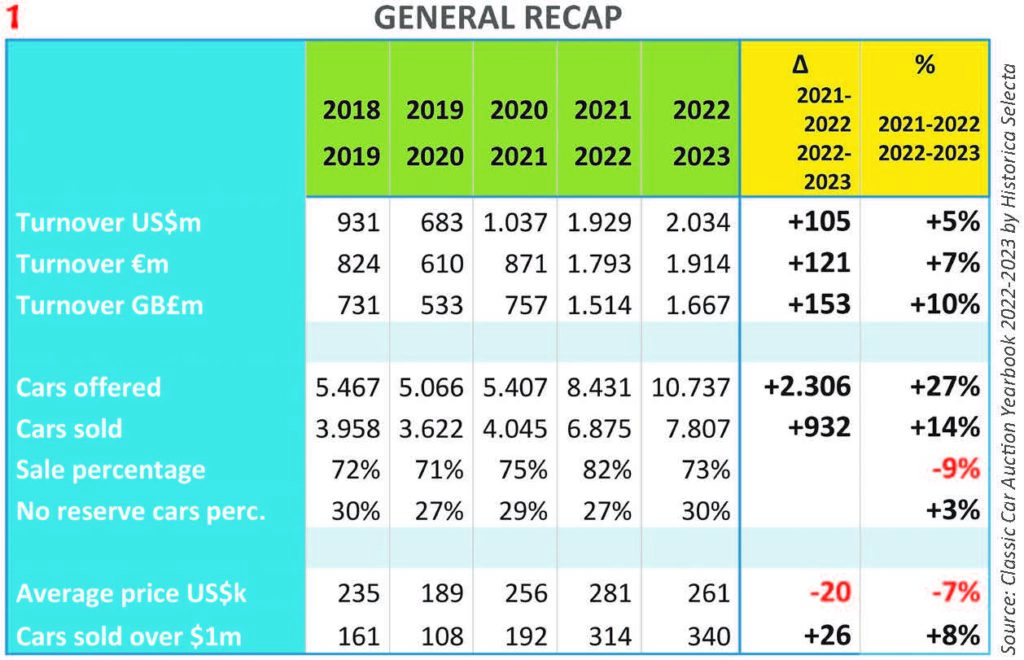 Bologna, Italy (26 October 2023) – Today, Author and internationally-renowned Historian Adolfo Orsi and his team at Historica Selecta launch the 28th edition of their annual reference book, the Classic Car Auction Yearbook, to report on the 2022-2023 auction season. An essential and unique resource that caters to serious collectors and investors since 1993, the new Yearbook reports on more than 10,000 cars offered between last September and August of this year and analyzes this data against a monstrous database of 116,000 cars that the author has recorded over the past 30+ years.
The incredible US $2.034 billion turnover represents an increase of 5% since last year, which can be partially attributed to 27% more cars offered for sale. However, when seeking an indicator of the market's true health and strength, experts look at the overall sales percentage. In fact, this past season resulted in a slight softening of the market with 73% of lots sold compared to last year's post-Covid boom of 82%; however, 73% still remains stable with the previous six seasons.
Photo by Angelo Rosa/ Historica Selecta
"In general, the market today is more reflective and selective," says Author Adolfo Orsi. "Peaking record prices, the wars in Ukraine, a stagnating economic outlook, growing inflation, fear of depression and increase of interest rates: all these drivers contribute to the slowdown of every collectibles market, including cars…just as others, the collector car market experiences its ups and downs. Buy the best quality your budget can afford, and drive the car, enjoying it without worrying."
As usual, US auctions make up the majority of sales with nearly 70% of total turnover, which is then followed by the UK and French markets in second and third place. The author goes on to announce Ferrari as the "King of this past season" making up 27.63% in sales against the total turnover across all marques sold. Porsche and Ford follow, accounting for 13.1% and 6.92%, respectively. However, with US auctions leading worldwide sales, it is also interesting to note that American brands Plymouth, Dodge, Chevrolet, Ford, Cadillac and Duesenberg lead overall when looking at the sales percentage per make; so, even if they don't account for the majority of turnover throughout the year, these brands sell steadily and more often in the American marketplace when compared to other international brands. There is also a clear trend of younger collectors purchasing more recent cars with the season's all-time high of 2,320 cars less than 20 years old being offered. As seen in this edition's graph numbered 26, the sales of cars built since the year 2000 accounted for more than 30% of this past season's total turnover.
The 28th edition of the Classic Car Auction Yearbook is a 420-page, authoritative guide that reports on the results from 109 traditional auctions, held from the 1st of September 2022 to the 31st of August 2023 and is filled to the brim with fascinating graphs and charts as well editorial contributions from the author and leading auction house executives. Every year, with its reliable and consistent reportage, the Yearbook continues to help collectors gain perspective on what transpires in the market and how to make well-informed decisions in the non-stop, automotive auction business. This year's edition is complete with 738 color photographs, 94 graphs and covers 10,737 cars, listed across 377 different marques with indication by chassis number and auction results in three currencies (Euro, US dollar and GB pound sterling).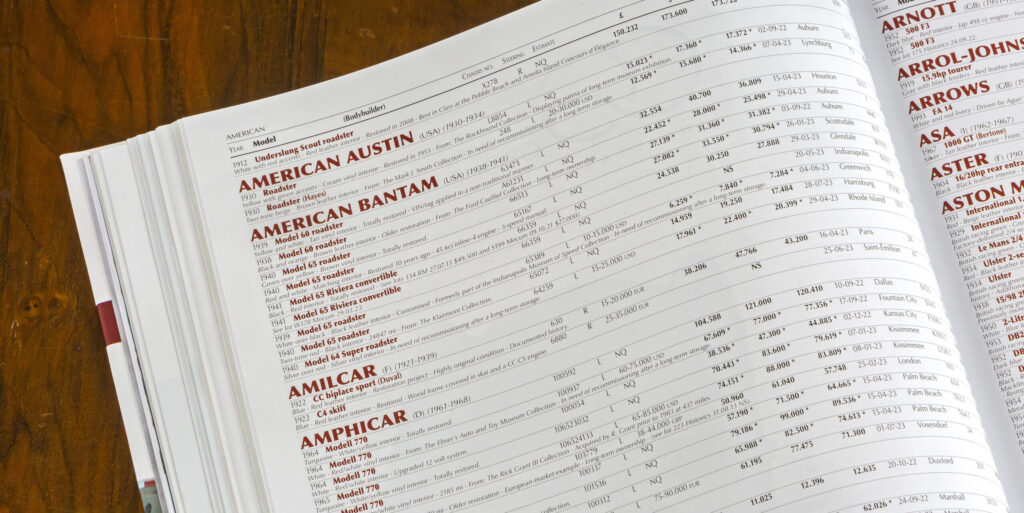 Photo by Angelo Rosa/ Historica Selecta