Credit Suisse Italy SpA Presents an Exclusive Meeting with Adolfo Orsi to Review the World's Most Significant Collector Car Market News – Thursday, January 26 – Discussing Winter Auctions in Milan and Arizona
26 January 2017
Adolfo Orsi also shares his 2015-2016 season analysis and reporting from the new 21st edition of the Classic Car Auction Yearbook that launched in October
The Credit Suisse Classic Car Program has proudly sponsored the Yearbook for eight consecutive years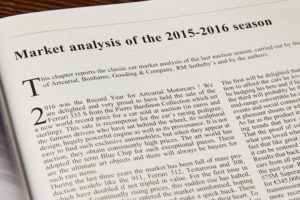 REGGIO EMILIA, Italy (26 January 2017) – Classic Car Auction Yearbook Co-Author and Historian Adolfo Orsi, Jr. is the guest of honor and speaker tonight at a private dinner hosted by Credit Suisse held at the new headquarters of Ruote da Sogno in Reggio Emilia. An expert of the international collector car market, automotive historian and chief judge among the world's most important Concours d'elegance, Mr. Orsi's presence offers collectors and private clients in attendance a special opportunity to review the market's latest news outside of the Yearbook's annual reporting schedule that occurs every October. The auctions that will be reviewed – RM Sotheby's DueMila Ruote Milan Auction in November and all of the auctions that took place in Arizona last week – produced impressive results for different reasons that will undoubtedly leave an impression on the market. 
Adolfo Orsi, Co-Author of the Classic Car Auction Yearbook says:
"The collector car auctions of late 2016 and beginning of January have confirmed the effervescence of the market. The RM Sotheby's Milan auction in late November, despite its anomalousness (it was an auction of the court 'all without reserve'), was the largest, as far as the number of cars offered, ever organized in Europe and it attracted hundreds of bidders from around the world. The auctions last week in Arizona, organized by Bonhams, Gooding and RM Sotheby's, realized $127 million and an 86% sales rate, staying in line with the same auctions' results from 2016. The US market continues to be in excellent health."
Stefano Vecchi, Head of Private Banking of Credit Suisse in Italy affirms:
"I am extremely proud to present for the first time in Italy the Classic Car Auction Yearbook with the support of its inventor and long time supporter Mr. Adolfo Orsi. After our long term partnership, presenting this book in the center of the Motorvalley is a unique privilege for Credit Suisse. I want to thank Stefano Aleotti who hosts us at his new location for Ruote da Sogno, the beating heart of Motorvalley. We are passionately close to this territory, close to its values and to all those people and entrepreneurs who creatively developed and launched their own dreams here, many of which are enclosed in today book."
About the Classic Car Auction Yearbook
Launched in 1993, Historica Selecta's Classic Car Auction Yearbook, sponsored by Credit Suisse since 2009, is authored and edited by company founders and historians Adolfo Orsi Jr. and Raffaele Gazzi. The new 2015-2016 Classic Car Auction Yearbook has 416 pages, 930 photographs and is available for €70 through an international network of automotive bookstores as well as internet-based retailers, with new distributors in Russia and Portugal. For more information and to review the publisher's directory on where to purchase the Yearbooks, please visit www.Classiccarauctionyearbook.com.
About the Credit Suisse Classic Car Program
Introduced in 2004, the Credit Suisse Classic Car Program has become immensely popular. Over the past decade, Credit Suisse has built a network of friends and enthusiasts who share a passion for classic cars. Its partnership of outstanding classic events, including its own rallies and its collection of historic vehicles, underline Credit Suisse's commitment to the classic car scene. Friends of the program include Derek Bell MBE, Jochen Mass and Alain de Cadenet. Credit Suisse also continues to support and celebrate leading historic motoring events, such as the Grand Prix de Monaco Historique and Goodwood Revival. Please visit credit-suisse.com/classiccars.
About Historica Selecta
Historica Selecta was founded in Modena, Italy in 1990 by Adolfo Orsi and was soon joined by partner Raffaele Gazzi in 1991. As leading specialists in the international collector car market and champions for historical preservation, Historica Selecta often advises many of the world's most prestigious manufacturers, museums, private events and collectors. Please visit: classiccarauctionyearbook.com/en/historica-selecta/.