Celebrating 25 Years of Publication, the New Classic Car Auction Yearbook 2017-2018 Edition Provides an Insider's Perspective on Last Season's $1.2 billion of turnover
25 October 2018
Authors Adolfo Orsi and Raffaele Gazzi explain key factors behind today's "buyer's market", such as how foreign currency, no-reserve cars, and blue chip examples have played a role.
"The first 226 cars (5.65% of the total) are more valuable than the remaining 4,002 sold in the season." (See page 18)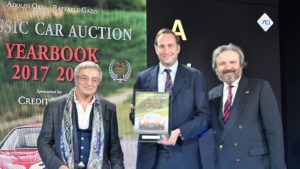 Historica Selecta honors RM Sotheby's with the annual Top Sale Classic Car Auction Yearbook Award for the 1962 Ferrari 250 GTO sold for $48,405,000 in California this August. (Photo by Massimo Delbo)
Credit Suisse celebrates 10 years as proud sponsor of the Classic Car Auction Yearbook.
PADUA, Italy (25 October 2018) – More than twenty-five years ago, classic car specialists and enthusiasts Adolfo Orsi and Raffaele Gazzi realized a need in the marketplace for tracking and understanding the prices of classic cars being bought, sold and then sometimes sold again. This propelled them to source sales and vehicle data at the few collector car auctions at that time running throughout Europe and the UK. Their passion and work continued to grow along with the auction market, which today is a $1.2 billion-dollar international industry. Now, supported for a decade by its partner Credit Suisse, the two authors publish every October the Classic Car Auction Yearbook, a robust and quality-driven reference yearbook that encompasses the most significant international auction sales from the past season, as well as unparalleled statistics driven by their database of more than 80,000 different cars.
This "bible of the sector," as some have called it over the years, is a unique collection and profound analysis of classic car market activity that, while remaining the same collectible, hardback yearbook for traditional libraries, continues to be improved and re-imagined every year with new statistics and understanding of market nuances, providing unbiased light and clarity where often there is none.
Celebrating their 25thanniversary of publication, the authors and partners of consulting firm Historica Selecta will present their latest 2017-2018 edition this afternoon at the ACI/ ACI Storico stand inside the Auto e Moto d'Epoca Fiera in Padua. An annual highlight of the private presentation, leading auction house executives – Philip Kantor of Bonhams, Augustin Sabatié-Garat of RM Sotheby's and Matthieu Lamoure of Artcurial Motorcars – will once again review the past year's sales, attitudes and trends in a live panel discussion. For the first time ever, a short video montage of the invitation-only presentation and panel discussion will be made available online at ClassicCarAuctionYearbook.com a few days following the show.
"It seems therefore that the market is growing in numerical terms and that the prices, after having been deflated by speculation, are meeting the expectations of buyers, also thanks to the cars "without reserve price," writes Adolfo Orsi, historian, specialist, co-author and president of Historica Selecta.
Orsi adds, "The results show that the provenance, together with history, reputation of the restoration shop and authoritativeness of the research, are acquiring a much more significant weight than in the past; this signal, together with more attention to the quality and condition of the car, is to be interpreted as a positive sign in the cultural growth of our sector."
New graphs may be found on pages 16 and 22 in the new edition, showing: a) how the average price of cars sold differs significantly due to currency exchange, b) weight of country on total turnover and how the USA has grown from owning half of the market in 2003 to two thirds of the market in 2018, and c) how market turnover is divided by period of manufacturing with percentages of the total and percentages of cars sold, i.e. Classic (1946-1964) period cars accounted for $441 million in auction turnover, or 36.66 % of overall sales, with 76.6% of cars sold. These graphs, in addition to last year's explosion of new statistics and understanding following the authors' investment in their database technology, are best understood by also reading the Author's Comment section in the Yearbook.
The 23rd edition reports on the most important international classic car auction sales from the 1stof September 2017 to the 31stof August 2018, covering 5,628 cars listed among 308 different marques with indication by chassis number and auction results in three currencies (euro, US dollar and GB pound sterling).
About the Classic Car Auction Yearbook
Launched in 1993, theClassic Car Auction Yearbook, sponsored by Credit Suisse since 2009, is authored and edited by Adolfo Orsi Jr. and Raffaele Gazzi, founders and historians of consulting firm Historica Selecta, which also publishes the Yearbook. The new 2017-2018 Classic Car Auction Yearbookhas 418 pages, 973 photographs and is available for €70 through an international network of automotive bookstores as well as internet-based retailers. For more information and to find out where to buy the Yearbook, please visit www.classiccarauctionyearbook.com.
About the Credit Suisse Classic Car Program
Introduced in 2004, the Credit Suisse Classic Car Program has become immensely popular. Over the past decade, Credit Suisse has built a network of friends and enthusiasts who share a passion for classic cars. Its partnership of outstanding classic events, including its own rallies and its collection of historic vehicles, underline Credit Suisse's commitment to the classic car scene. Friends of the program include Derek Bell MBE, Jochen Mass and Alain de Cadenet. Credit Suisse also continues to support and celebrate leading historic motoring events, such as the Grand Prix de Monaco Historique and Goodwood Revival. Please visit www.credit-suisse.com/classiccarsfor more information.
About Historica Selecta
Historica Selecta was founded in Modena, Italy in 1990 by Adolfo Orsi who was soon joined by partner Raffaele Gazzi in 1991. As leading specialists in the international collector car market and champions for historical preservation, Historica Selecta often advises many of the world's most prestigious manufacturers, museums and collectors. Please visit: classiccarauctionyearbook.com/en/historica-selecta/.